Our April meeting will take place on Thursday, 20 April, at 7,30p.m. This will be a planning and working meeting, to prepare for the Heritage Victoria Seminar next week.
The February meeting at Scotsburn was much enjoyed by members. It was a balmy evening, and a number of senior members of the congregation were present to share their memories - pastor Ern Brown,who has just announced his retirement after 25 years service, Ruby Knowles nee Shearer, John and Celia Scott, Howard Williams and Mena Whiteside. During the evening they all contributed memories of their association with the church. Heather Stokes displayed some historical items, and arranged a lovely supper for us.
HERITAGE VICTORIA seminar on Friday 28 April at Buninyong Town Hall, on the theme 'Historic Towns in the Landscape'. The program begins at 9.00a.m. and runs till 5.00p.m. The National Trust is also involved in the seminar, and we are providing our Court House for a launch, and also doing a display. The seminar will examine the impact of growth on heritage towns, and especially on the surrounding landscape, an issue we are grappling with at present. Registration costs $60 for the day, and if you are interested in attending, I can send you a brochure with registration form, or check the Heritage Victoria website.
NEWS AND NOTES
CATHOLIC CHURCH HISTORY
A conservation management plan for St. Peter and Paul's Catholic Church in Buninyong has been completed by Wendy Jacobs and associates. This provides an excellent history of the church and its community. It also contains recommendations on what actions are most urgently needed to conserve the fabric of this church, one of the earliest in the district.
RHSV Insurance for historical societies. Good news this year that the RHSV has managed to get better and cheaper insurance cover for member societies.
BIOGRAPHICAL QUERIES
As usual, the queries keep steadily rolling in from far and wide via our Website. I am always thrilled to find people in Scotland or the USA reading our newsletter and finding something of interest.
CLAYTON
Mortimer and Ann were living in Buninyong in 1915, when Ann wrote to her son Mortimer who was serving in the army.
DONOVAN
Ellen Donovan was a relative of Daniel Phelan, Mayor of Buninyong and publican at the Buninyong Hotel in the early years of the twentieth century. A descendant from Darwin contacted us and kindly sent information about the Phelans and the Donovans.
GIBSON
Tom and Sam Gibson were in Buninyong in the 1850s, both married to wives called Ann. Tom and Sam were both carpenters, from the evidence of the Holy Trinity Baptisms register in 1857.
PEARCE, Richard Prideaux
Miner, with wife Ellen nee Kneale raised 13 children. Twin daughters Esther and Mary Ann were buried at Buninyong 1877, aged 3 days. Four sons killed in World War One - Carl, Stanley, Richard and Herbert, and Edward was wounded.
STOCKS, Marianne
Buried at Buninyong 1862. Mother of Benjamin and Ernest, schoolteachers at Durham Lead in 1860s. Notice of our acquisition of Marianne's journal in the last newsletter led to a visit from a descendant in Sydney, who also has a copy of Marianne's journal, only his copy has a fascinating record of goldfields experience in Ballarat. An article about the Stocks family follows.
EMPIRE DAY
We were discussing Empire Day at cataloguing. It was first introduced in 1905, on 24 May, the late Queen Victoria's birthday. The idea originated in Canada in the 1890s, as a celebration of Empire loyalty. It was taken up by the British Empire League's Australian Branch in 1901, when the Boer War excited patriotic loyalty to Britain. The celebrations were aimed at school children, inculcating a love of the Union Jack etc. Catholic schools generally did not take part, because of Irish hostility to the British government's refusal to grant home rule. Instead Catholics celebrated 'Australia Day' on 24 May.
After World War Two it evolved into Commonwealth Day, and then Cracker Night by the 1960s, before it died out altogether.
---
AUCTIONS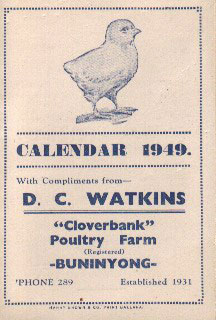 That landmark of the centre of our town, Whykes Butcher shop, was auctioned in March. Although a good crowd turned up, there was no bidder, and the premises remains for sale as I write, at a price of $520,000. The butcher shop closed at the end of May 2000, then opened later that year as Tiggies Restaurant, famous for its plum puddings. The Hayes family moved on to a bigger factory in Ballarat to make their puddings, and the restaurant became famous as Anise, a top quality restaurant which operated during 2003-4. The Whykes family then took over again and operated the café as Jacks@Buninyong from April to December 2005, but sadly the popular eatery did not re-open after 31 December 2005.
The former Railway Hotel was auctioned on 7 April. It sold for $290,000. The license for the former hotel dates from 1855, when it was known as the Nugget Hotel, later the Court House, later Railway, later Blum's Hotel. Jack Blum was the last publican until sometime in 1917 when the hotel was delicensed, and passed to James Howard of the Box Factory (1918 Rate Book) Later to John Porter, who called it 'Cloverbank'. In 1931 Doug Watkins operated his poultry business here, selling 'day old chicks' until the 1960s. Thanks to his relative Stuart Skewes, we have this little calendar of "Cloverbank' from 1949.
A furniture and effects auction followed. Our thanks again to Stuart Skewes, who was involved in sorting out some of the contents of the old hotel, and found some interesting historical bits and pieces to pass on to us.
---
STOCKS FAMILY, from Manchester, England.
The Stocks family emigrated to Australia from Liverpool on 16 October 1853, arriving at Port Phillip on the 'Mooresfort' in January 1854. The once comfortable family had been reduced in circumstances The matriarch Marianne decided to embark for the golden land of Victoria in 1853, with most of her children, who were well-educated young adults, the perfect 'nation-building' material.
Joseph, 22 embarked with his young brother Frederick on the 'Athlone' in 1853. They were soon followed by Marianne, 52, Marian 30, Sophia 28, Benjamin 25, Selina 21, Ernest 13 and Emily aged 11, on the 'Mooresfoot'.
Marianne wrote her autobiography for the benefit of her children. She was extremely religious - an ardent Methodist - whose religion extended to practical good works amongst the poor. However her upbringing had been genteel, and she was worried about the corrupting influences of goldfields society on the morals of her children. Thus she needed to keep a close supervision of her children, particularly her daughters.
Son Benjamin was sent off to Ballarat to initiate a mission on behalf of the United Methodist Free Church. He was appointed Head Teacher at the new Durham Lead (Green Hills) Wesleyan School on 14 September 1857, and remained in that position till 31 July 1864.
Frederick also went to Ballarat, and was apprenticed to Mr Davis, the saddler.
Ernest also went to Ballarat, before returning to Hawthorn as a teacher, then back to Durham Lead near Buninyong to follow his brother as teacher from 1864-71.
Selina gained a job near Launceston in Tasmania as a governess for the Methodist Mr. Hall, who was in charge of a school. Marianne went with her daughter, employed as housekeeper at the school. The accomplished Selina soon won the heart of the widowed Rev. Hall, and they were married in Tasmania.
With Selina settled, Marianne returned to Victoria, to shepherd her daughter Louisa, who arrived in August 1856 on the 'True Britain'. Louisa gained a situation at the Mount Pleasant Wesleyan School at a salary of £100 per year. The school had been established in 1855.
The autobiography records the journey of Marianne and her daughter Louisa to Ballarat in 1857. It is salutary to read of the women getting lost in the bush near Warrenheip, and finally seeing Ballarat laid out before them after their walk from Melbourne - 'a city of graves' as Marianne so pessimistically describes it.
Within the year, young Louisa married the headmaster at Mount Pleasant, David Morris.
Meanwhile Marianne also secured a position as a teacher at the newly opened Canadian Wesleyan school. (The Canadian Gully school opened on 6 April 1857 with 49 pupils. It ceased operation in 1863, according to Vision and Realisation). Mother and daughter set up camp in a tent midway between their two schools, and later found a neat wooden cottage. Marianne stayed at Canadian for three and a half years.
With Louisa married, Marianne moved to Durham Lead near Buninyong, where her son Benjamin was teaching at the Durham Lead (Green Hills) Wesleyan School. Marianne died on 29 March 1864, and was buried at Buninyong in the Wesleyan section.
Ernest took over as teacher at Durham Lead from his brother in 1864, and worked there until 1871, marrying fellow teacher Isabella Webb in 1870. By the 1870s he was establishing himself as an artist, and probably took lessons at the Ballarat Mechanics Institute School of Design, for he exhibited there in 1876. He left Ballarat in 1894 for Drouin, where he established an orchard.
Before she died, Marianne wrote down her memories of her life in Manchester, and her emigration to Victoria. This is recorded in a beautiful hand in a journal, complete with drawings, held by a NSW descendant of Selina.
The Buninyong and District Historical Society has another copy of Marianne's diary, which lacks the Australian material.
The State Library of Victoria also holds copies of some family manuscripts, as well as Ernest's lovely watercolour view of Buninyong in 1875.
COMING EVENTS
| | |
| --- | --- |
| 20 April 2006 | Buninyong and District Historical Society Meeting, at the Buninyong Court House History Centre, 7.30 p.m. |
| Friday 28 April | Heritage Council seminar ' Historic Towns in the Landscape', at the Buninyong Town Hall. |
| 5-6 May 2006 | Buninyong Film Festival, at the Buninyong Topwn Hall. |
| 7 May 2006 | first Sunday of the month, Craft Market and open day at the Court House History Centre. |
| Coming up soon | Excursion to Skipton caves. More at the April meeting. |