Happy New Year to all our members and readers. We are about to celebrate the launch of the new Buninyong Community website, which will bring many aspects of community life together. This will happen at the Buninyong Gold King Festival, on Sunday 17 February.
Our year opens with the Festival on Saturday 16 February, when we are offering a walking tour around Buninyong in the morning. Then on Sunday 17 February, we will have members on hand all day to assist visitors to the Court House History Centre, and the Old Library.
Our first meeting takes place on Thursday 21 February, when Richard Eldridge, an Honours History student at the University of Ballarat, and a resident of Grenville, will tell us about his research into the amazing history of the Grenville, Mount Mercer Cargarie and Hardie's Hill Show, from 1872 to the end of the nineteenth century.
We meet at 7.30p.m. at the Court House History Centre at the Town Hall.
NEWS AND NOTES
Celebrating the 150th Anniversary of our Botanical Gardens
The Friends of the Ballarat Botanical Gardens have just celebrated their 150th birthday, with a series of events in Ballarat, and now it is the turn of Buninyong. At the Gold King Festival, the Friends, led by Lorraine Powell and Judith Bailey, will provide a lunch with live music in the Gardens on Sunday 17 February, and we are helping them mount an exhibition in the Queen Victoria Rotunda. We urge you to support this delightful function by booking a boxed lunch for $10 tel 0419 103 213
Visitors to the Court House History Centre, 3 February 2008.
Sometimes it is very quiet for the volunteers on duty at the History Centre on the first Sunday of the month, but we had a very busy day this February, with some very interesting visitors. First came the Carters, who have been lovingly restoring Mossmount - both the house and the garden. How fortunate that this important historic house, home of the nurseryman Francis Moss, has sympathetic custodians.
Our next visitor was Mr Trench from Melbourne, enquiring about the German Adolphe Siehl. Our indexing system turned up trumps, and an article provided by Robert Bell to the Buninyong News in October 2001 told of Adolphe shooting his partner at the Hard Hills, in a fit of jealous rage, before shooting himself. Mr Trench was able to fill in what happened to Adolphe's widow - she went into Ballarat, and formed a liaison with Judge Robert Le Poer Trench, a rather aristocratic Anglo-Irishman, and bore five children by him. They never married, but obviously had a long and loving relationship. They are buried together at St. Kilda. We sometimes question the moral standards of the twenty-first century, but there were some interesting arrangements in the so-called prim Victorian era! (Especially with Irish judges!)
Our next visitor was enquiring about Richard Chapman, who settled in the Scotsburn area. The young man was born in Geelong of a convict parent from Tasmania. What we are finding is a surprisingly large number of ex-convicts from Tasmania who came to the Buninyong area, either as employees of the early squatters. or as miners in the 1850s. Richard married a lady who was described on the St. Alipius marriage certificate as a 'farmer'. She was almost twice the age of her 19-year-old husband. They had one daughter Mary, and Richard eventually died at the old Police Station in the Buninyong Gardens in 1918.As his descendant said, it is unusual to find such a small family from that Victorian era of large families.
Organs of the Ballarat Goldfields
The Organs of the Ballarat Goldfields visited Buninyong on a beautiful Tuesday 15 January. I conducted my largest ever walking tour of the township, with well over 50 people in the morning group. We then enjoyed a concert in the packed Uniting Church, a picnic in the Gardens with the Little Brass Band from Ballarat, and then a wonderful Iranian Sufi concert in the Town Hall. It was a fabulous day of music-making in Buninyong, and all the visitors from interstate and from Melbourne loved their time in Buninyong. The weather was perfect, and we are especially thankful to the Uniting Church for their co-operation during a special day for Buninyong.
Changes to the Streetscape
On 3 February, I took my camera onto the streets of Buninyong. Big changes were afoot. At the old Town Hall site, the former Council offices building was being rendered to differentiate it from the Town Hall, The building was originally brick. Presumably this change was approved by the Ballarat Heritage Advisor!
Across the road, the new site for the Buninyong Supermarket was being cleared by trucks!. The two houses had disappeared, and the site is almost ready for building of the new supermarket to commence.
Up Learmonth Styreet, the old Court House Hotel, formerly owned by Doug Watkins, was being transformed by the new owner, Mr Linquist, a local builder. The old hotel was gutted, and old Baltic Pine timber flooring was removed and burnt. The old cellar was exposed during this process.
Gold King Festival
We will have members on duty all day at the Court House History Centre at the Town Hall, so come and visit us, especially our Melbourne members whom we would love to see.
The Launch of the Buninyong Community website will take place on Festival day at the Old Library. Liz Lumsdon has been working very hard on bringing this project to fruition. Liz is webmistress for our own website, which will be linked into the new Buninyong site, whose address is www.buninyong.vic.au
FAMILY HISTORY ENQUIRIES
December 2007-February 2008 Biographical Queries
A busy time for enquiries over Summer.
BUTLER of Yankee Flat
Patrick and Bridget settled at Yankee Flat in the early 1860s, and their name is perpetuated in Butlers Road, leading off Yankee Flat Road. It seems that a number of Irish families from Kilkenny, who migrated together in the 1850s, settled in this area.
CONNOLLY Thomas
From India, licensee at the Court House Hotel in Buninyong in 1878 when Brim Brim burned down.
HOWARD, William Edward, and his wife Frances Stone
In Buninyong in the 1850s.
McGILL, Francis
Pioneer who died in Buninyong at the Caledonian Hotel.
McGILLIVRAY - Annie
Annie McGillivray married John Charles Taylor in 1871 at the Green Hills near Dollys Creek. She died in 1874, leaving two small daughters who went to school at Mount Doran.
McGILLIVRAY, George
Stone mason at Hiscock's Gully in 1856.
NICHOLLS Jemima
Jemima Nicholls was born in 1865, and may have been born in Buninyong, according to the evidence of a family photograph
RAINBOW family
From the Korumburra and District Historical Society, a request for information about the Rainbow family and any other Buninyong district families who selected land in the great forest of South Gippsland in the 1880s.
RIDLEY, John
A storekeeper in Buninyong area circa 1857 when his daughter Rebecca was born.
If readers know anything about any of these names, and can help, please contact the secretary, Anne Beggs Sunter, a.beggs-sunter@ballarat.edu.au.
STS. PETER'S AND PAUL'S CATHOLIC CHURCH BUNINYONG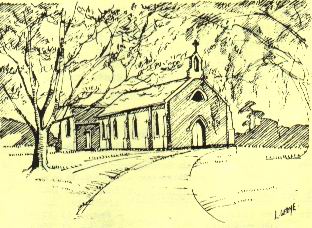 Celebrating 150 years of Catholic faith in Buninyong
St Peter and Paul's Church
Sunday, 6 April 2008
On Sunday, 6 April 2008, the Catholic church of St. Peter and Paul's Buninyong will celebrate the 150th anniversary of its opening by Bishop James Alipius Goold on 11 April 1858. This is a remarkable anniversary for the people of Buninyong, 'the Ancient Village' that pre-dates Ballarat by a decade.
The Catholic Bishop of Ballarat, Bishop Peter Connors, has graciously consented to preside at Mass at 10.30a.m.on the anniversary.
This will be followed by a social gathering over lunch at the Buninyong Golf Club. Cost of lunch is $10 a head, with drinks available from the bar.
A display of historical memorabilia will be on view at the Golf Club, and during the months of April and May at the Buninyong and District Historical Society. (Visit the Society's web site for an article in its April 2008 Newsletter.)
For bookings and enquiries and to RSVP, please telephone Margaret Burke 5341 3740, or Margaret McCarty 53413243. Email Anne Beggs Sunter at a.beggs-sunter@ballarat.edu.au
PLACES OF INTEREST
HISCOCK GULLY Near Buninyong cemetery, area on the other side of the Midland Highway where Hiscock discovered gold in August 1851. Marked today by the name Hiscock Gully Road, which houses three monuments to the original gold discovery.
YANKEE FLAT Not far from Navigators, near the foot of Mount Buninyong. Name is used in the first rate book of Buninyong Shire in 1863, and is perpetuated today by Yankee Flat Road, an important road linking Mount Buninyong to Warrenheip and Eureka Street in Ballarat. Now part of the famous Buninyong Grand Prix Cycling Track.
WATCH OUT FOR ...
The new Buninyong Heritage Walk Book, compiled by Neil McCracken, who is a keen walker and member of the Great Dividing Trail Association. Thanks to Neil's enthusiasm, we obtained a grant from the Ballarat Community Fund to assist with publication costs. Michelle Coxall of Buninyong Books has also been most generous, as has our Councillor Peter Innes.
We are producing 2,000 copies of the booklet, which will retail at $5 a copy. Likely launch at our April meeting. The Ballarat firm of Waller and Chester are printing the booklet.
Also, make a point of visiting the Ballarat Fine Art Gallery to see the wonderful Ocean to Outback show on tour from the National Gallery of Australia. Wonderful historical landscapes from 1850 to 1950. A feast for the eyes. Our new booklet features a sketch of Mount Buninyong made in 1853 by the artist Charles Macklin, which the Ballarat Fine Art Gallery kindly allowed us to use on our cover.